© Moray Firth Gansey Project June 2018
This project was part-financed by the Heritage Lottery Fund, and by the Scottish Government and The European Community Rural Aberdeenshire, Highland and Moray LEADER 2007 – 2013 Programmes.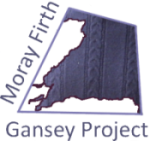 Around 40 ganseys have been donated to the project. We have also recorded the details of ganseys held in museums and heritage centres around the Firth, and those loaned by individuals. In addition we have examined old photographs of people wearing ganseys in local collections. All of the information about our ganseys will be made available via the SCRAN web site, as the start of a national gansey archive. This will take time to set up. Meanwhile we are adding photographs and charts to this web site. For more information about the ganseys shown, contact us via the e-mail address below, or ring Moray Firth Partnership on 01463 225530.
From time to time we are able to collect information about ganseys from outside the Moray Firth Area. Follow the link to find out more about these.